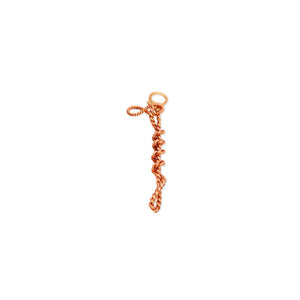 Shaman's Wand
Secured & Safe Checkout :

Discontinued
The Shaman Wand energetics is found in the Wisdom Wand!
The Shaman's Wand has been a super profound tool, and still a favorite amongst many of us at the Studio and elsewhere.  They are difficult to make, and since the Wisdom Wand carries the energetics of the Shaman's Wand, we are letting them go!

The Shaman's Wand was first created as a solstice gift for Mayan Elders at Tikal, Guatemala. They are powerful pieces. The lobster-claw clasp allows the Shaman's Wand to go wherever you do. It is of a heavy duty construction.
The wand itself is approximately 4-1/2 inches long. Six inches including the clasp.
Learn More
Shaman's Wand
With the Shaman's Wand, you are truly a Galactic Shaman. 
Within its field, you become your Soul.
It begins by cleaning out all that junk to make more room for soul.
The energy field will quickly allow you to release what no longer serves. 
More than just bringing your soul light in, it is a connection. 
In that connection you have all the resources you need, if you want them.
This field takes us into a new paradigm of being and doing.  Instead of trying to clean and clear all the stuff that affects us, we step out of it.  All that stuff is simply miscreations of our own or as a collective.
Clear out the old programs and belief systems, old traumas and dramas, as you become more fully in soul than ever been in any lifetime on this earth.
The Shaman's Wand is stepping up your vibration, as the 3D world falls away.
If you are not dedicated to doing the release work, we suggest the Golden Fire Rings instead of the Regeneration Rings.
The Regeneration Rings are for the high level clearing of personal miscreations throughout your existence. 
Yet they are also for becoming more You than you ever have before!
There is no need for protections in this space.
There is no 5G.  Chemtrails too, are a mis-creation.
We move beyond this all as we clear miscreations within this space.
Within this field, the soul is in charge, always.  This energy field helps body mind and soul come into a balance.
Come into Harmony and Balance of cosmic growth, by connecting you the human, the mind, the body, to the space of the soul that is cosmic galactic universal.
There is a surrender in that. It is a surrender into the soul light.
Things may not be easy in the beginning. 
For some, it could be simple and easy, very individual. If need grace and ease, will have it. Not a choice on the human level. But it is there.  Again, the soul is in charge.
As all that is cleaned out and cleared out, it brings in the soul light.  And the true human, that is so connected in with the soul.  The rings are not only helping with the cleaning and clearing and releasing, but bringing in that soul essence, vibration, being, the true you.  Its stepping up your vibration, as the 3D world falls away.
There is one more important thing to share, and this is the most important aspect of using these new tools. 
Things will come up.  Things from this lifetime, also things from all that you have ever been or ever will be...  And you must find a way to release them.  There are many simply ways to do so.  Some will see the thought or emotion that comes up as a butterfly, and watch it fly away.  Some will carry a Ring with them, and when the programs, beliefs, thoughts, judgements, emotions, aches and pains come up, take out your ring and blow through it.  Whatever you find to release, and not stuff them back or ignore them. 
Here is a recent channel from The Elders Three that you may find helpful:
This is Brenda with the Elders Three here in service to each of you. In this time of shifts and changes, take three breaths to bring yourself into your sacred heart. First breathe, connect into the heart of the our beloved earth. Second breathe, bringing your awareness to the beautiful light of creation that flows through you. And third breathe, imagining the energy of earth, creation and you in every cell of your body. Please connect in this now moment.
As we move through our journey of life at this time, we are changing and shifting almost constantly. This is causing many old dramas, traumas, and emotions to surface to be released. These old energies may rise up like Old Faithful as out of control emotions, pains in the body or random thoughts. As these energies rise, find a simple and easy way to release them. This is the way that I have found to be the easiest and most effect in releasing. As these energies come into your awareness, take a few moments to just be with this energy in whichever way it manifest within you. Acknowledge it with love and then just be with it by placing your attention on it. That is it. You are not trying to change it, or see where it came from, you are just being with this energy in love. Do this for a few minutes at a time whenever it comes into your awareness. Always in love. Do this with those emotions that scare you, fear as an example. Recognize it, acknowledge it, be with it and allow it to dissipate. This is a practice. It is not something you do once and you are done. Same with odd pains in the body. Recognize the pain, acknowledge that you have a pain, be with the pain and follow the pain if it moves. As we move forward on this amazing journey, there are some things that you just can't bring along. Those old energies that cause you pain, both emotionally and physically are heavy bags to carry. Lighten your load. We are eternally grateful for your light upon our beloved earth. Great Love, Light and Peace to YOU!!
There may be some other useful information on the Regeneration Ring Creation Story blog.
The Shaman's Wand was first created as a solstice gift for Mayan Elders at Tikal, Guatemala.  They are powerful pieces.  The lobster-claw clasp allows the Shaman's Wand to be wore as a pendant or clipped to an article of clothing.  It is of a heavy duty construction.  The Infinite Heart is a medium-sized Golden Fire.  So both the Regeneration Ring field and the Golden Fire are present in this piece.
You can simply carry on your person, to receive all the benefits of the Regeneration field, or it can be used as a wand... to run energy, or to Create with.  Creation comes through the soul.  We are merely the anchor point for Creation on this plane.  So, the more you are in alignment with Source/Soul, the quicker you manifest.

Miscreations cannot exist for long, when working with these new tools.
To run energy with the Wand, simply point and move.  I use small circles with the Wand pointed at a point on my body.  You can use infinities instead of circles.  Does not matter clockwise/counter clockwise.  You can feel the cells ignite with the Wand.
The wand itself is approximately 4-1/2 inches long.  Six inches including the clasp.  
Healing
I am amazed at this wand. Didn't expect the high energy it produces. Watched the video on line to learn more about it and the use of it. Fascinating healing tool. What really amazed me is the connection this wand has with the moldavite I have. The energy is WOW! I am gratefully to you for creating this piece. Much Love and Many Blessings to all of you and for doing the work that you do.
Gratefully, Karen
Merkaba
I like the jewelry and twisted metal look. I am going to have everyone wear one.
Master Touch
The Shaman Wand is like have a gigantic guardian of remembering beside you until you wake up with the knowing that it was yourself all along. I have all the wands and 2 Shaman wands. I love the Dragon wand and Shaman Wand there such wonderful companions. Highly beneficial and an easy Wand to work with.
Amazing tool
I first discovered Twisted Sage in early December of 2022. I was very intrigued by it and took time to read descriptions and customer reviews about different rings and energy tools available. Somehow, I was drawn to a Shaman's Wand. I ordered it for myself and received it a couple days before Christmas.
I did not want to "jump" into the energy work right away. I wanted to "get to know" the wand and decided to keep it around me or in my pockets to begin with.
On Christmas day, as we were preparing for Christmas dinner, my husband was making Yorkshire Pudding. He had a muffin pan in the hot stove (450 F) with only 3 out of 6 muffin wells filled with dough, and the rest with hot boiling oil.
Rushing to take the muffin pan out, I grabbed it with my right hand with the oven mitt on, but then somehow managed to spill the hot oil from the empty wells onto the palm of my left hand. It took me a sec to realize what had happened. I put the muffin pan down on the open oven door and rushed to the sink to put the hand under cold running water. 2/3 of my palm were affected by the burn, the pain was so extreme, and the lower part of my pinky started to develop a blister. In the couple of places, the skin had split from the intensity of the heat. And of course, we had NO first aid burn creams at the house.
(I am writing this all out so that you can understand the severity of the burn.)
Throughout the dinner, I held ice bags on my palm, as I could not stand the burning pain for more than couple of seconds.
After dinner, I managed to find Rx strength Lidocaine lotion and applied it generously to the burn several times. That evening, after the Lidocaine finally kicked in, I placed my shaman's wand on the palm of my hand and held it there for some time.
The next day, being unable to do much, I just held the wand in my hand, and as the day progressed, I was able to close my hand in to a fist, the redness started to go away, and by the evening time, I was able to do the dishes with ZERO discomfort from being in the water and touching things.
This is 24 hours after the initial accident!
I continued holding the wand in my hand when I could, and over the course of the next couple days the redness completely went away, the initial blister on my pinky went away, the splits on the skin had closed and it returned to its normal state - no redness, soft and healthy.
I know I yet have a lot to learn, but this experience was truly AMAZING.
Thank you!
Shamans Wand
Got my Shamans Wand and must say that it is a really good och powerful tool. I had some problem with my chest, and about 30 minutes after I hung the wand around my neck the problem in the chest was gone. It shall be exiting to see what this tool can do on different levels of life. Very good that the wand is sterdy
---