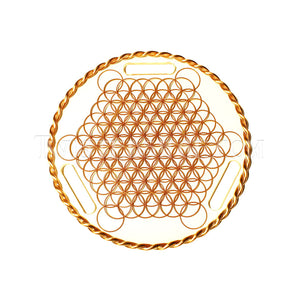 Metatron Personal Meditation Floorplate
Secured & Safe Checkout :

Metatron Plate
**August Clearance Sale announcement-  We do not keep a large quantity of this product in stock, there may be delays in creation and shipping.
Each plate takes 3 to 4 weeks to complete.
Currently, there is 1 Floorplate in queue ahead of you.
The Metatron Plate contains an 89-Ring matrix, plus 6 points to expand into the Fruit of Life. The Metatron's Plate starts with the Flower of Life pattern then expands it.

The Fruit of Life and the Fruit of Life Floorplate both contain the full 127-Ring matrix which makes up this expanded version of the Flower of Life. Energetically, they will both be the same.

The 96 Golden Fire Rings, along with the outer Regeneration Ring, create just as a powerful column as the larger floorplates. The mini Floorplate weighs 4 lbs 11 oz.

The outer Regeneration Ring is a super heavy duty ring at nearly 15 inches in diameter.
Learn More
The Plate is large enough to fully stand upon.  It is sturdy, made of 4 layers of petal rings, and an ultra heavy outer Ring, each layer poured with EcoPoxy, a plant-based resin from Canada.  Which is also UV resistant to avoid yellowing over time like other epoxy brands.
Pictured is a Metatron's Plate with three handles cut into the EcoPoxy.  You can choose one, two, or three handles.  You may also choose no handle, though I certainly do prefer to have one if it is to be a portable unit.
The three handles were in this Plate simply for three people to gather and create a trinity to do energy/journey work
The Metatron Plate can be used as the Fruit of Life Floorplate is used in the video presentation found here, or it can simply be used to charge food and water, to hang above your head on your headboard, under the bed, or whatever else you are drawn to use it for.
I also like to add the Practitioner's Set of rings to work with the Plate!
Each Metatron Plate is an individual creation.  Yours may have slight imperfections, such as a tiny air bubble caught in the interior, or a wave in the finish, but does not affect the energetic quality of the piece.  Each Plate is made with the utmost care throughout the process. 
As these are a large undertaking, it may take up to a month to create your custom floorplate.  If there are others in queue ahead of you, it can take longer.  We strive to have the floorplate to you within 3 weeks.  You are welcomed to check in at anytime, and we send updates and photos along the way.  Just know that it will take as long as it needs to, to create this special portal, which can propel you for a lifetime, for you. 
Cosmic Game Changer!!!!
Ever since receiving my first collection of Twistedsage tools I have been working on myself and helping other Light Workers along the way as well. However this floor plate in particular has been absolutely fundamental in the work I have been doing! The ability to step onto something and have your entire being feel as if weight has been lifted off of your shoulders is paramount when doing inner energy work. Clearing energy is half the battle. Combine that with intention and opening yourself up to receive and you practically have a philosophers stone! I chose the Metatron Plate because I have been connected to Metatron's Cube for my entire life and it is sacred to the very core of who I am. Brian and his amazing team have outdone themselves time and time again when it comes to these beautiful phenomenal tools! When I offer a service to work with individuals on self growth, healing and spiritual alchemy. It is always intuitive in the way I approach working with each individual but what I have noticed is that the inaugural sessions that I have with people almost always solely take place using the Metratron Plate in conjunction with a Practitioners Set of rings. It isn't till the second session that we incorporate other tools/modalities into our work together. And yet it is still the first step we take after smudging! This tool is fundamental in assisting people with connecting to their true selves. Connections are so sacred, we spend most of our lives seeking it from others, higher beings or ourselves and yet Twistedsage has given us a wonderful tool to do it with ease and grace and still it does so much more! I look forward to working with these amazing devices for many years to come and look forward to all that Twistedsage brings forth in the future! Thank you times infinity Twistedsage team! You folks are absolutely AMAZING!
---