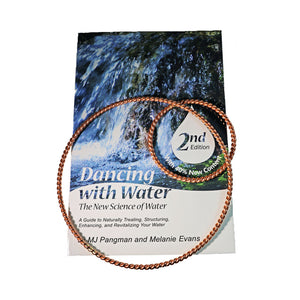 Dancing With Water-The Book
Secured & Safe Checkout :

Dancing With Water The Book
Dancing with Water is a truly amazing book, anchored in science.
One of the best reference books for water out there!!
Learn More
A Guide to Naturally Treating, Structuring, Enhancing, and Revitalizing Your Water
The New Science of Water
Dancing with Water-the book by MJ Pangman and Melanie Evans
*TENSOR RINGS NOT INCLUDED*
Dancing with Water is a truly amazing book, anchored in science, and presented as an easy to use manual for working with water.
One of the best reference books for water out there!!
Plus, we are in the second edition with the Tensor Rings!!!
Our good friend Randy Hatton, with the Gaia Fountain, is also referenced in the book, as well as many others who have made an impact on water!
To Learn more about this fantastic book, as well as to see all the great products MJ and Melanie offer, please visit DancingWithWater.com!!!
The Earth Resonance Water Rings are pictured but not included with the book. 
To learn more about the Water Rings, please visit the Water Ring Tensor Rings page!!
A Mind Blowing Science Lesson
Water fascinates me and I'm always try to learn more about its astounding properties. This book covers every aspect I could possible think about when it comes to water and health. I would highly recommend this book to anyone wanting to improve their mind, body, and soul. The shipping was very fast, and the book price was extra reasonable from TwistedSage! I will likely be back for more items soon :-)
A must-have for water lovers
A pretty much detailed book on the subject, well written, and full of DIY tips. I title this review as 'A must-have for waters lovers' but it could also be 'A must-read for anyone with an interest on health issues'. The authors did the extra mile in order to present us with top quality data and managed to give a clear view on a subject that sometimes isn't so easy to showcase. Can't wait for a 3rd edition, with much more info as already noticed some on their website that isn't included in the book. In sum, a brilliant production !!
Fantastic book--what a journey!
Still reading this, so will update later, but so far such a great read and need-to-know information, much respect, so glad TS is well-deserved attributed here with your groundbreaking excellence!!
Dancing with water
Love this book , I've been implementing things from it straight away with tensor rings and crystals, enjoyed reading every page
Water Tasting Better Now
This helps my sentient journey.
---